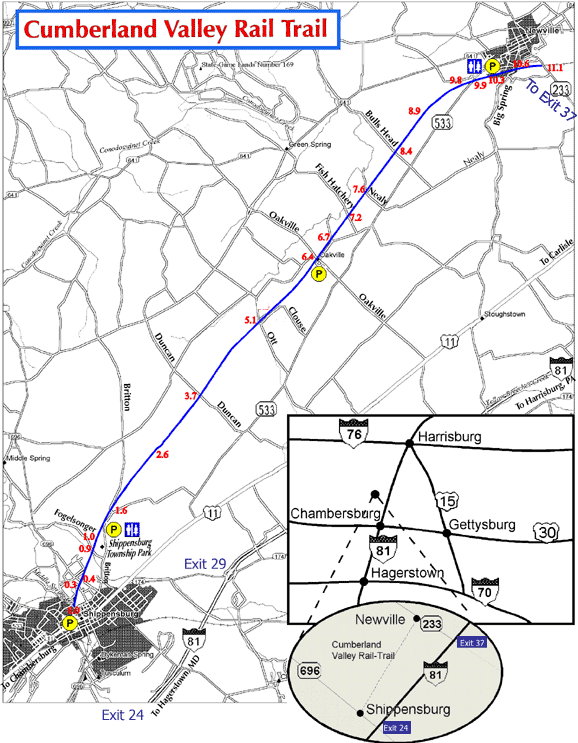 Download a pdf version of the trail map suitable for printing
USGS topographic map of the trail
---
Mileage Descriptions
Distances are from the Shippensburg Trailhead
0.0 North Earl Street (Shippensburg) at Fort Street.

Parking available on Burd Street municipal lot 2 blocks southwest.
0.3 North Prince Street (University parking area encroaches on trail corridor, west of crossing.)
0.4 North Queen Street pedestrian crossing.
0.9 Fogelsonger Road crossing with steep bridge embankments. Use CAUTION.
1.0 Shippensburg Township Park.

Parking and

Restrooms available. Park to serve as an entry for the trail, including equestrians.
1.6 Britton Road crossing.
2.6 Farm Crossing.
3.7 Duncan Road crossing.
5.1 Ott Road.
6.4 Oakville Road crossing. Shaded picnic tables.

Parking available.

Restrooms are available at the North Newton Township Park, ¼ mile west of the trail on Oakville Road.
6.7 Private road crossing off Red Shed Road.
7.2 Fish Hatchery Road crossing.
7.6 Nealy Road crossing.
8.4 Bulls Head Road crossing.
9.8 Fry Road entry/exit path.
9.9 PA Route 533 underpass. No loitering.
10.3 McFarland Street Trail Head (Newville).

Parking and

Restrooms available. Avoid parking in front of residences if possible.
10.6 Big Spring Road crossing with steep embankments. Use CAUTION.
11.1 PA Route 233 (Centerville Road). No parking available.
Download a pdf version of the trail mileage descriptions